All Glass Evacuated Tube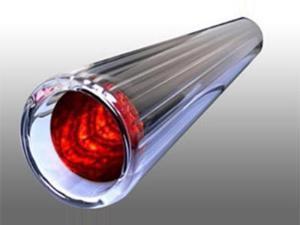 Introduction
As the key component for solar collectors, our all glass evacuated tube is similar to a conventional Dewar flask. This product is composed of two borosilicate glass tubes with high chemical and thermal shock resistance. The outer side of the inner tube is coated with a sputtered solar selective layer. Closed at one end, the inner tube for the solar heat pipe is sealed to the outer tube at the other end. The annular space between the outer tube and the inner tube is then evacuated to eliminate heat loss caused by conduction and convection.
Leading Technology of All Glass Evacuated Tube
The all glass evacuated SS-ALN cermet solar collector tube is produced with interference type solar absorption layer, and the technology of metallic membrane plating like SS and Al duplex metallic target sputtering manufactured cermet absorption layer, etc. In addition, the vacuum tube also employs new interference type selective absorption layer with the absorptance α=0.94 and emission ratio ε≤0.06.
The absorption layer for the all glass evacuated tube utilizes SS-ALN (special stainless steel aluminum nitride) absorption layer with good resistance to high temperature. Even if the glass gets melted, the SS-ALN absorption layer will not shed. Our product is characterized by outstanding ageing resistance, long lifespan, low emission ratio and small thermal loss. The excellent heat absorption performance makes it possible for water heating when it is 30°C below.
Why Us
1. Our company has automatic all glass evacuated tube production line, as well as the advanced and strict testing process, which helps us achieve optimal product stability.
2. With the vacuum degree up to 10-4Pa, the heat loss rate is controlled within 0.03-0.06.
3. Utilizing metallic copper as the bottom metal layer which is characterized by high absorptance, the solar evacuated tube has low heat loss, which is just 50% that of the regular vacuum tube. The average heat loss of our all glass evacuated tube is ULT≤0.5W/(m2.°C).
4. With good insulation performance, the stagnation temperature is higher than 270°C.
5. The patented technology helps us successfully encounter the problem caused by graded coating limitation, realizing the working temperature from -40°C to 40°C.
6. Equipped with 5 full automatic production lines, our company is capable of completing the production of 100,000 pieces of high temperature resistant evacuated tube, daily.
Full Automatic Production Line for All Glass Evacuated Tube
Material Tube Conveying Line
Automatic Coating Line 1
Edge Cutting Line
Cleaning Line
End Sealing Line
Automatic Getter Production Line
Automatic Packaging Line
New Product - All Glass Evacuated Tube with Inner Reflecting Layer
This new series of all glass evacuated tube is coated with reflecting layer inside the outer tube to reflect the sunlight to the inner tube for solar energy collection and heating, which effectively improves the heating efficiency. The solar energy is then converted into heat energy to complete liquid heating.
QA and Test Center for All Glass Evacuated Tube
As a professional supplier, we lay great emphasis on the product quality and customer satisfaction degree. The national largest quality assurance system and test centre, which are constructed based on the standard stricter than the China National Standard, help us achieve outstanding product quality. Apart from ISO 9000 quality assurance system certification and CNAS certification, our company enjoys sound reputation and solid brand recognition in the global market.
Coefficient of Thermal Expansion Test
Coating Composition Test
Steel Ball Impact Test
Absorptance Test
Specifications of All Glass Evacuated Tube
Description
Ultra Low Emission Evacuated Tube
All Glass Evacuated Tube with Inner Reflecting Layer
Length (m)
1.6
1.8
1.6
1.8
1.92
2.1
2
2.1
Structure
Three targets
Material of glass
Borosilicate Glass 3.3
Optional coating type
ALN/AIN-SS/Cu (aluminum nitride, AIN-SS, copper)
Outer tube diameter (mm)
Φ47
Φ58
Φ84
Outer tube thickness (mm)
1.6
1.8
2.0
Inner tube diameter (mm)
Φ37
Φ47
Φ37
Inner tube thickness (mm)
1.6
1.6
1.6
Absorptance
≥0.94
Emission ratio
≤0.06
Solar transmission rate
≥92%
Vacuum degree (Pa)
≤5.2×10-4
Max. temperature(°C)
300
Average heat loss (W/m2.°C)
≤0.60
≤0.60
≤0.50
≤0.65
Rated Pressure (MPa)
1.0
0.6
Stagnation parameter (m2·°C/kW)
241
256
265
284
289
290
314
309
Coefficient of thermal expansion (K-1)
3.3×10-6
Solar radiance exposure (MJ/m2)
≤3.6
≤4.6
≤3.0
Lifetime(years)
15
Quantity
20'GP
3240
2916
2496
2304
2112
1920
728
728
40'GP
6804
5832
5376
4608
4440
3960
1512
1512